Infrared Sauna Therapy
Infrared light therapy is becoming really popular because so many people want the health benefits of sunbathing, without the harmful effects it can have for your skin. We added one to our clinic because we thought this was a great compliment to help people relax while obtaining other health benefits along the way.
We ask that every client fill out the client information form before their sauna session. You can print the form and bring it with you, or arrive a few minutes before your session to complete it at our facility.
An Invitation To Sunlighten from Sunlighten.
Benefits of Infrared Sauna Therapy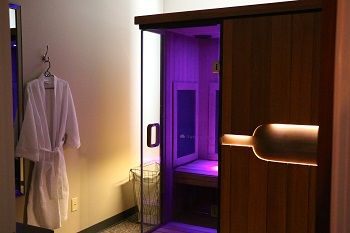 Reduce Back, neck, arthritis pain
Lower blood pressure and improve circulation
Detoxification and weight loss
Increase ability to relax and meditate
Infrared light is part of the sun's invisible spectrum of light that has the ability to penetrate the human tissue. The light heats the body rather than just the air. The increase in your body's core temperature results in a much deeper, more detoxifying sweat and increases your metabolism. A 30 minutes session in the sauna can help people burn up to 700 additional calories and is incredibly relaxing.
You can completely relax in the sauna, or you can listen to music and select a lighting option for no additional charge. Just like your float and massage experiences, you can completely customize your session.
Chromo Light Therapy can help with "winter blues" or other problems that studies have shown can be treated with light therapy. Chromotherapy lights are available during your sauna session. For more information visit our vendor's website
Frequently Asked Questions?
What should I bring?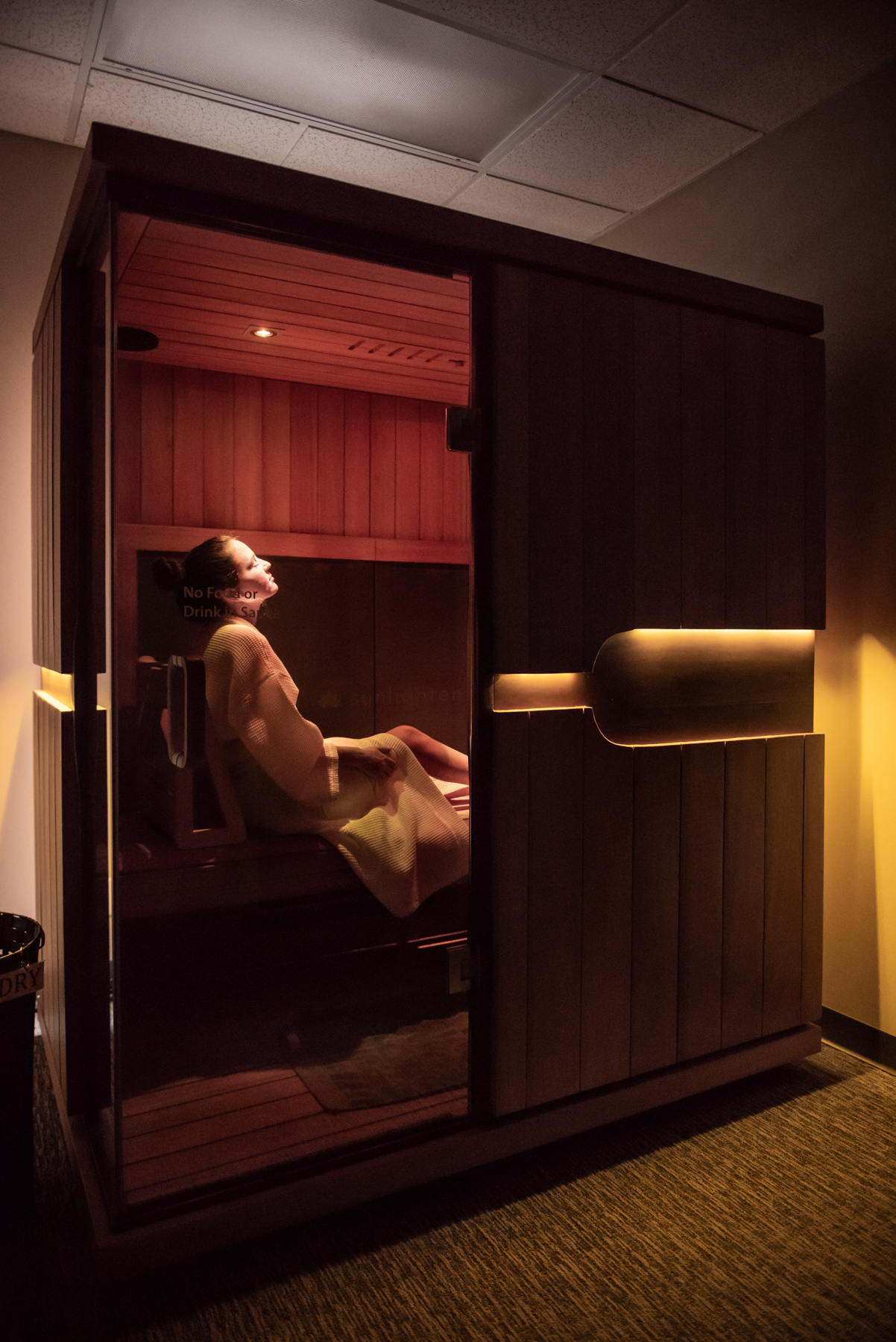 You don't need to bring anything to use the sauna. We provide towels and water. We have music and guided meditation you can use or you can bring your own. Please let us know ahead of time so we can make sure we have time to pair your device and get it working for your session. Once we get you set up the first time, you should be good to go for future sessions.
What you bring for AFTER your sauna session depends on what you plan to do after. You are more than welcome to bring personal items and fresh clothes for after. You are also free to relax in our waiting area after.
What do I wear in the sauna?
You should wear whatever makes you feel comfortable to achieve YOUR best result. Research will advise you to wear as little clothing on as possible to allow your body to sweat and detox. However, our sauna is big enough for three people and we realize you may want to wear clothing. If you wear clothing, we advise that you wear light and loose clothing that allows your skin to breath.
How much will I sweat during my session?
This is of course different for each person. However, it is important to know that you may not sweat the first few minutes. In fact, you will wonder why the sauna isn't warmer right away. The sauna is heating your body from the inside out, so a warm and relaxing sensation will slowly happen during the session. Sweating will also increase with regular use.
Where can I learn more about the infrared light technology and benefits?
We did a lot of research on infrared saunas before we purchased the Sunlighten Sauna. There is a TON of information regarding the safety and testing done on Sunlighten Sauna's on their website. They also speak to their patented technology regarding Near, Mid, and Far light technology and carbon emissivity. Please check it out and if you have any questions that we can't answer, we can contact the vendor for you.
Sauna Pricing